Posts for tag: dentures
By Drs. Pauls & Savarese
November 26, 2015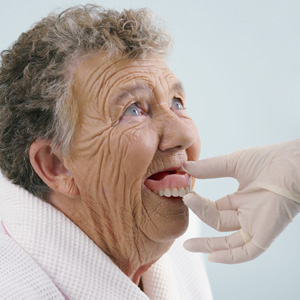 It's a common problem for denture wearers: after years of a comfortable fit, your dentures now seem to be uncomfortably loose. The reason, though, may have more to do with bone loss than the dentures.
Bone is a living tissue with a life cycle — it forms, it ages, and it eventually dies and dissolves (resorbs). It's replaced with new bone and the cycle repeats. Additionally, the forces generated when we bite or chew are transmitted from the teeth to the jaw, which helps stimulate new bone growth. When the natural teeth are missing, however, the bone no longer receives this stimulus. Resorbed bone isn't replaced at a healthy rate, which leads over time to bone loss.
Denture construction can also contribute to bone loss. The denture palate rests for support on the bony ridges that once held the teeth. Over time the compressive forces of the dentures apply damages and reduces the volume of gum tissue and eventually does the same to the bone. Combining all these factors, the reduced gum and bone volume will eventually alter the denture fit.
There are a few alternatives for correcting loose dentures. One is to reline them with new plastic, as either a temporary fix performed during an office visit or a more permanent relining that requires sending your dentures to a dental lab. Depending on the rate of bone loss, a patient could go through several denture relinings to accommodate ongoing changes in the jaw. At some point, though, it may be necessary to create a new set of dentures.
A third alternative that's becoming increasingly useful is to incorporate dental implants into the denture design. Implants can of course be used to replace individual teeth, but a few strategically placed implants (usually of smaller dimension) can serve as a support platform for a removable denture. This relieves some of the compression force of a traditionally worn denture and can slow bone loss.
If you're having problems with your denture fit, call us for an appointment. We'll help you decide on the best alternative to improving the fit and making your dentures more comfortable and secure.
If you would like more information on refitting loose dentures, please contact us today to schedule an appointment for a consultation. You can also learn more about this topic by reading the Dear Doctor magazine article "Loose Dentures."
By Drs. Pauls & Savarese
October 04, 2015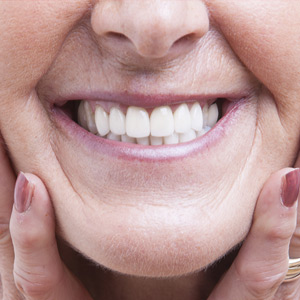 You probably can't remember a time without your teeth — and can't imagine life without them. But now it's a reality: one by one your teeth have become casualties in a long-standing war with dental disease until now they're all lost.
Total tooth loss (edentulism) can be difficult in more ways than the loss of function — it can be psychologically traumatic as you must now transition from natural teeth to dentures or other restorations. To add to the stress, you probably won't be able to obtain your permanent restoration immediately because the extraction sites must heal.
To help you with this transition and provide a means for you to have teeth during the healing period, we may fit you with an appliance known as an immediate denture. With these temporary teeth replacements, you can maintain your smile appearance, chew food and speak unimpaired.
Initially, immediate dentures should fit well, but over time your gums will tend to shrink as they heal. This can loosen the dentures' fit and make them uncomfortable to wear. If the healing process is still ongoing and you still need to wear the immediate dentures, they can be relined with more denture material to fine-tune the fit.
At some point, though, we must consider creating a new, permanent set of dentures. When your mouth is fully healed, we can make a more accurate impression that we can then use to construct your new set. There are also other options, such as using dental implants to support a denture or a fixed bridge. This option will only be possible, however, if you have sufficient bone available to fully support it, which we might also be able to augment with grafting.
Immediate dentures serve a worthwhile purpose, but only for a temporary period. We'll be happy to discuss all your options with you to help you find the right permanent solution that fits both your mouth's condition and your financial ability.
If you would like more information on transitioning to teeth replacement, please contact us or schedule an appointment for a consultation. You can also learn more about this topic by reading the Dear Doctor magazine article "Immediate Dentures."
By Drs. Pauls & Savarese
January 14, 2015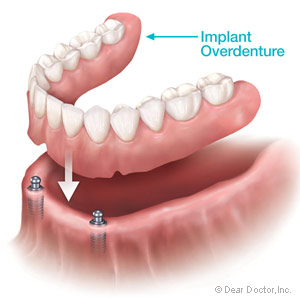 Some patients who wear dentures face a kind of Catch-22: their denture fit may have loosened and become uncomfortable over time due to continued bone loss, yet the same bone loss prevents them from obtaining dental implants, a superior tooth replacement system to dentures.
But there may be a solution to this dilemma that combines the stability of implants with a removable denture. A set of smaller diameter implants — "mini-implants" — can support a removable denture with less bone than required by a conventional implant.
Like all living tissue, bone has a life cycle: after a period of growth, the older bone dissolves and is absorbed by the body, a process known as resorption. The forces generated when we bite or chew are transmitted by the teeth to the jawbones, which stimulates new bone formation to replace the resorbed bone. When the teeth are lost, however, the stimulation is lost too; without it, resorption will eventually outpace bone growth and repair, causing the bone mass to shrink.
Removable dentures also can't supply the missing stimulation — bone loss continues as if the dentures weren't there; and due to the compressive forces of a denture, bone loss accelerates. As the jawbone structure used to originally form the denture's fit eventually shrinks, the denture becomes loose and difficult to wear. It's possible to adjust to the new jaw contours by relining the dentures with new material or creating a new set of dentures that match the current bone mass. Without adequate bone, fixed crowns or bridges anchored by conventional implants may also be out of the picture.
On the other hand, mini-implants with their smaller diameter need less bone than the traditional implant. A few strategically placed within the jaw are strong and stable enough to support a removable denture. One other advantage: these mini-implants can be installed in one visit with local anesthesia and usually without the need for incisions or stitches.
If you would like more information on dentures supported by mini-implants, please contact us or schedule an appointment for a consultation. You can also learn more about this topic by reading the Dear Doctor magazine article "The 'Great' Mini-Implant."